Cal Johnson's Chicago Daily News Articles

These books, both entitled Fishing Tips by Cal Johnson, were put out by the Chicago Daily News. Pictured below is the first edition (1930) and on the right is a subsequent edition from 1934."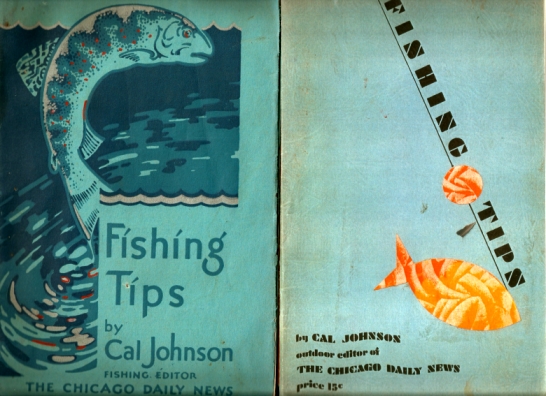 Click Here For Archived Articles
By 1929, Cal Johnson was living in Chicago after having accepted a position with the Izaak Walton League of America - whose national headquarters was in Chicago - to serves as their new Director of Public Relations. Prior to this appointment, Cal had been living in New York City where he was the managing editor of the Sporting Goods Journal. By February of 1930, Cal had become the fishing editor of the Chicago Daily News, with whom he wrote daily columns on just about every outdoor and angling topic. Later in 1930, the Chicago Daily News released a book by Cal Johnson entitled, Fishing Tips. Although it consisted of only 44 pages, this book packed a helpful cross section of valuable fishing information between its covers. It detailed the technical points of fly and bait casting; gave a breakdown of the various types of Mid-western game fish; it showed how to preserve game fish in warm weather, how to prepare fish for mounting, and how to cook game fish; it gave tips on selecting and caring for equipment; and it presented all the fishing laws for the mid-western states.

By 1931, Cal had two different outdoor radio shows on the air which were heard throughout the Mid-west. One of the radio stations that he was on, WMAQ radio, was owned by the Chicago Daily News until it was bought out by NBC. Cal also did the first known television show in history that featured a muskellunge on WMAQ's television station in 1931.

The following articles give a sampling of some of the articles that Cal had written for the Chicago Daily News. Every other week this website will feature different articles of Cal's in this section in order to present to our readers and viewers an ever changing variety of Cal's topics that he had covered for this newspaper....